The Pont-Aven Leaves (2008-11)
A flat screen monitor video installation with sound; digital video (18 mins, looped)
opened on the 8th July, 6pm, Sirius Arts Centre, Cobh, Co. Cork, Ireland
At 4 o'clock every Saturday afternoon the Pont-Aven ferry leaves Cork, Ireland on its way to France. Over the period of a year, six half-hour video clips of Cork Harbour were taken from the same vantage point. Each clip starts at precisely 4:10 pm but focuses on a different area of the harbour, so that the ship passes through each shot in turn as it heads out to sea.
When all 6 clips are synched and mounted on a single wall, mapped to their true locations on the harbour, the ship slips out of one frame and into another, curling back to exit through the central frame.
The ship glides from screen to screen, and so from one set of weather conditions to the next, collapsing one year into 30 minutes.
A cacophony of six radio stations from the UK, USA, China, Poland, France and Australia add an international siren song to the gradual departure of the ship.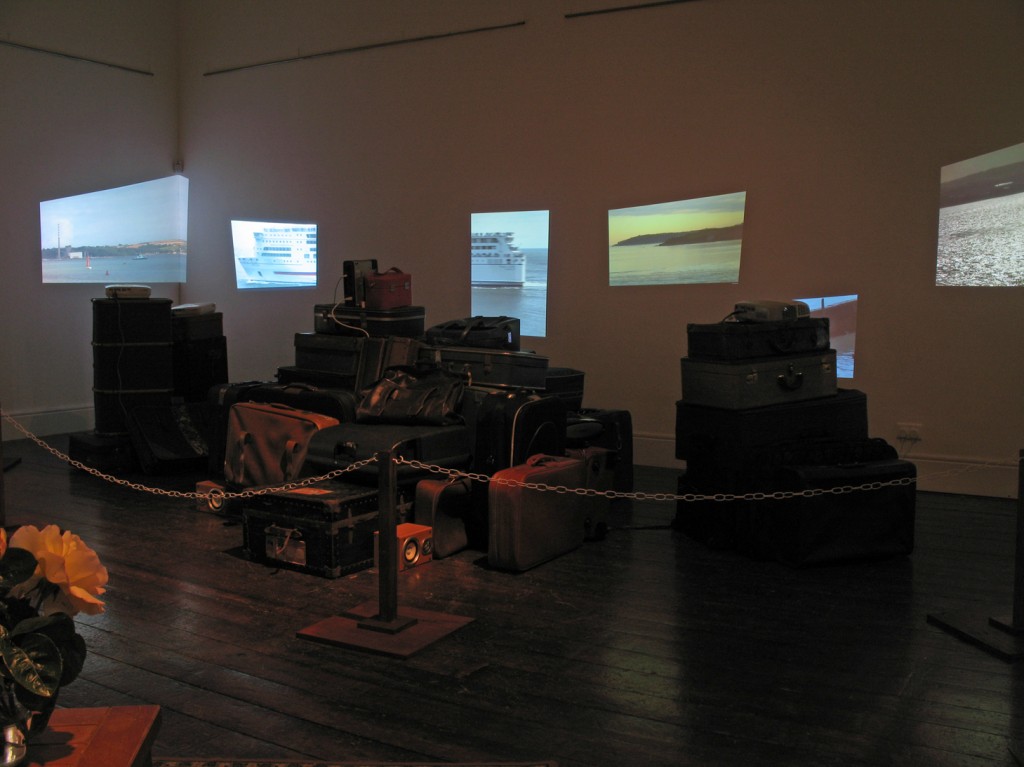 Full room installation with comfy couch and tea-making facilities.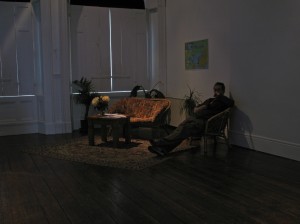 Materials: 6x DVD players, 6x projectors, 4x amplifiers, 8x speakers; donated suitcases, bags,trunks; couches, tables, carpet, paraphernalia for tea-and coffee-making
Installation requirements: flat wall 6-10m in length; 240V power supply; 6x projectors; 6x Blu-ray HD players; 8x speakers; 4x amplifiers
Setup time: 3-4 days