You (2005)
Video projection with 3-channel sound (30 mins, looped)
This footage was captured on the main Sydney-Perth highway, with a tripod sitting on the white line about 200 km from the mining town of Broken Hill.
My father was terminally ill at the time, and being so far from a large airport, in a vast plain with no mobile phone coverage, caused me great anxiety.
Shortly after I returned to Sydney my father died.  I later reviewed the footage, and turned to one of his favourite country music songs in search of a sound track.
After editing out the lead singer, only the standard '50s backing harmonies remained.  These were subsequently slowed and looped until they matched the speed of the moving image. I asked a local to randomly intercept, and record, radio chatter from airwaves around Broken Hill; he posted a disc to me in Sydney, and another layer of sound was added to the final mix.
The image comes in waves of absence and presence, as does the sound. The air is thick and hot, too hot to take wing.
Review: Dominique Angeloro, Sydney Morning Herald, Jan 28 2005
"… The artist's second installation, You, comes charged with an unlikely sonic clash: a 1950s ballad and the crackling of truckie radio talk. A fragment of the swooning song has been slowed down and looped, providing the soundtrack for a video projection of an outback road steaming in the sun. A murder of crows gather on the tar, lunching on road kill.
Facing off with this mesmerising image is a satellite dish suspended from the ceiling. It replays random soundbites intercepted by a radio scanner."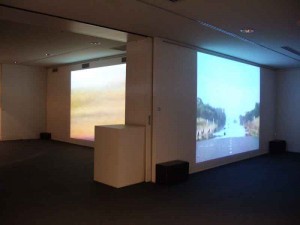 Materials:
DVD
Installation requirements:
240V power, DVD player, 3-channel amplifier, 3x speakers, projector
Setup time 2 days
You (right) as installed in Radiography (in Sculpture 2005 festival), Sir Hermann Black Gallery, Sydney (on the left is Postcard from Broken Hill)
You was included in Figuring Landscapes, which toured venues in Australia and the UK in 2009, including the Tate Modern, London, and also featured in 3 of the Best, Georgia Scherman Gallery, Toronto, 2009
Review: